INHED2020 Annual Scientific Meeting
Trinity Biomedical Science Institute – TBSI Trinity College Dublin
13th – 14th February 2020
The inaugural annual scientific meeting of the Irish Network of Healthcare Educators addressing the theme "Preparing students for the complexities of practice and transformative experiences" was hosted in Trinity College Dublin on 13-14 February 2020. The conference was headlined by four expert international keynote speakers, attracting over 210 attendees from over 10 professions crossing the spectrum of undergraduate and postgraduate education.140 abstracts were accepted and delivered in 14 thematic sessions, 11 workshops, 2 special interest groups and an interprofessional student-led session. The event held over the 1.5 days was organised by a local interprofessional steering committee and recognised by the Royal College of Physicians, Ireland. It was a great privilege to host the conference in its inaugural year, the spirit of sharing and community was fortified with generous international speakers and fantastic delegates. We look forward to more INHED experiences and sharing the camaraderie of this network, hopefully in person, in the future.
.
The Keynotes
The 4 keynotes addressed aspects of professional formation from the individual student clinical experience, educational interventions supportive of transformation, assessment and learning systems to encourage holistic development and professional oversight using appropriate models.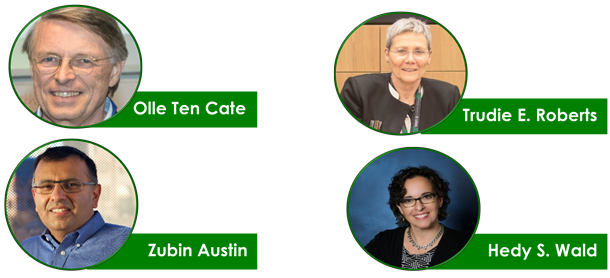 Professor Trudie Roberts shared her recent findings from a multi-professional study entitled "Understanding and Developing Learning in Clinical Settings: Research into Practice". She considered what students are currently doing during placements, what their experience is like in comparison to educator expectations, and how placement learning can be facilitated. There were many lessons for clinical educators, Trudie assured us there was no need for "magical thinking". Rather the evidence supported pragmatic solutions, such as creating an "expansive" learning environment (Fuller & Unwin, 2004), welcoming students, and including them as part of the team with chances to practice, ask questions and gain help. There were useful examples from The University of Leeds and what to do when staff don't expect students to contribute to clinical work, yet students wish to be involved- a theme that would be revisited by Olle ten Cate.  We were left with a question to consider, regarding the time it takes to integrate students into a team in a meaningful way, and consequently whether there is an optimal length of placements to facilitate this? Trudie encouraged putting less emphasis on preparing students in advance for practice, and more on facilitating their learning once they were in the clinical environment.
Professor Hedy Wald provided more food for thought on this issue in her keynote on the Professional Identity (Trans)Formation for Flourishing in Health Professions Education & Practice: Reflection, Relationships, Resilience".  Grappling with complexity is viewed a key feature of this (trans)formation process. Hedy encouraged the audience to stop pathologizing and start normalising uncertainty, to find the language to navigate new experiences that facilitates students learning and promotes resilience by viewing challenges through an alternative lens. A prescient lesson for today's world.  Hedy guided us through the processes for developing resilience (moral and emotional) among students using feedback on reflection capacity, mentoring relationships, communities of practice and medical humanities.
Professor Olle ten Cate, the author of Entrustable Professional Activities (EPA), prompted us to consider "the essence of trusting learners to take over responsibility", thereby promoting authentic learning and valid assessment for trainees. The reframing of work-based assessments and moving from person based to work based judgements supports a more holistic judgement about the level of supervision the trainee requires, rather than a "person" judgement. EPAs are a vehicle to operationalise competency-based medical education in a safe and stepwise manner that connects with real clinical practice. An 'entrustment' decision is more than an assessment of skills and knowledge and allows the conversation between supervisor and student consider a wider range of learner attributes. "Traditional workplace-based assessment looks back at how a learner did; entrustment decisions look forward to future competence" with A RICH entrustment decision considering the learner's Agency, Reliability, Integrity, Capability and Humility.
Professor Zubin Austin concluded the talks with an international review of recently published work examining diverse models for the assessment and measurement of competence. In a continuation of the 'trust' theme he challenged us to consider: If "competency" is our answer – have we asked the right question? Zubin reflected on the effectiveness of the current system at ensuring public trust, in identifying poor practice, promoting remediation practices and whether this is an effective and resource efficient means to accomplish such goals. As we learn more about the indicators for poor professional behaviour, we should weigh up where attention is best focussed to meet these goals.
.
Panel Discussion with Students and Graduates
Mark Nolan, Joseph Noctor, Eimear Garvey, Emileen Healy, Niamh Reynolds, Jestlin Ng, Orsolya Hevesi, Nicholas Stefanovic, students and graduates from the programmes of Dentistry, Occupational Therapy, Radiation Therapy, Speech and Language Therapy, Pharmacy, Nursing and Medicine presented a panel discussion chaired by Derek Sullivan and addressed the question "Has my college course prepared me to become the healthcare professional I would like to become?"  Among the topics discussed was the college experience for healthcare students, and the challenges in balancing personal development and professional identity formation. An important conclusion drawn from the debate was that students should be approached as collaborators, rather than passive recipients/consumers of their education.
..
Delegates and Community
There were a wide range of workshops addressing the complexity of practice, collaboration, emotional intelligence, resilience building and wellbeing, managing change and quality of education, illustrating the great expertise and generosity within the national community of healthcare professionals and educators. The event hosted two Special Interest Groups sharing international expertise on Entrustable Professional Activities led by Olle ten Cate and Interprofessional Learning led by John Jenkins, Julia Browne and Alison Bullock, both considering how to translate research into best practice. Oral communications and ePosters were delivered in sessions addressing student experience, programme development, teaching and learning innovations, assessment, reflection, simulation, quality assurance and faculty development.
The work of the community continues through international research collaborations, a national interprofessional network INHED Interprofessional Education (IPE) and locally through the TCD Community of Healthcare Education Research Excellence (COHERE) addressing programme and faculty development in the areas of interprofessional learning and professional identity formation. A new INHED Special Interest Group in IPE  will promote and support interprofessional learning and practice, by providing a platform to share ideas, resources and expertise in interprofessional eductation, and promoting cross-institutional research. Expressions of interest are invited from those interested in IPE via a webform here.
Interdisciplinary Education of Medical and Speech & Language therapy students around dysphagia management: A pilot Study.
Dr Helen Kelly, Speech and Language Therapist and lecturer in Speech and Hearing Sciences UCC.
Best Presentation Awards
Best Oral Presentation
Best oral presentation on the day went to two joint recipients; Eleanor McCrystal (QUB) for her  presentation entitled 'The Purple Pen Project – Improving Undergraduate Prescribing Education' and Caroline Hills (NUIG) for her presentation entitled 'The road so far: Developing a national interprofessional practice education quality framework for health and social care professions'.
Best ePoster Presentation
Best ePoster presentations went to the following recipients:
Aoife Duignan (NHS Borders) – 'Development of MeFB – an electronic teaching feedback tool'.
Julie Flanagan and Edwina Walsh (National Rehabilitation Hospital) – 'Stop, Listen & Learn'.
.
.
INHED Grant Recipients 2020/21
The successful research and travel grant recipients for 2020 – 21 were also announced as follows:
Research in Medical Education (RIME) Grants
1. Student stress, resilience and the mitigating effect of coping strategies on graduate entry programmes leading to health professional qualifications. Dr Anne O'Connor (UL)
2. EMANCIPATE. Evaluating to maximise clinical placement effectiveness. Dr Deirdre Bennett (UCC)
3. An International Snapshot of Patient Availability for and Attitude to Bedside teaching. Dr Emer Kelly (UCD/SVUH)
INHED Education & Research Grants (ERG)
1. Implementing stakeholder-informed priorities to enhance the assessment process of physiotherapy students in the workplace; an investigation of the psychometric and edumetric properties of a revised Common Assessment Form. Dr Anne O'Connor (UL)
2. A quantitative study to evaluate Trainers perceptions of experiential learning placements (ELP) for pharmacy students. Dr Ruth McCarthy (UCC)
INHED Travel Grants
1. Funding to attend the ASPE Annual Conference. Linda Ní Chianáin (QUB)
2. Funding to attend the Canadian Conference in Medical Education. Dr Richard Conn (QUB)