College Hall, Royal College of Surgeons in Ireland, Saint Stephen's Green
5.30 pm, Wednesday 12th February 2020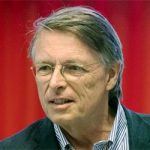 As well as being a keynote speaker at the Irish Network of Healthcare Educators (INHED) conference in Trinity College Dublin on February 13 – 14 2020, Professor Olle ten Cate will give a public lecture entitled: "What is a 21st Century Doctor?" in the College Hall, Royal College of Surgeons in Ireland, Saint Stephen's Green at 5.30 pm on Wednesday 12th February.
RCSI wish to invite everyone interested in this topic, which is of great relevance to all involved in the design and delivery of all stages of medical education.
Professor ten Cate is a professor with a chair in medical education at University Medical Center Utrecht, the Netherlands. With a background of medical education and a PhD in social sciences, he has vast experience with curriculum innovation, educational research, and faculty development in the health professions domain, locally, nationally and internationally.  He was the founding director of the Center for Research and Development of Education at UMC Utrecht, served as the President of the Netherlands Association for Medical Education, and has published widely about advances in health professions education. One of his interests is in competency-based education, and specifically in the application of entrustable professional activities (EPAs) to improve the quality of education to serve the quality and safety of health care practice. EPAs are increasingly used internationally as a framework for educational development in the early post-graduation training of doctors. There are also plans to bring this framework into Irish medical settings.